Scrappy News
Volume 1 Issue 6
September 2017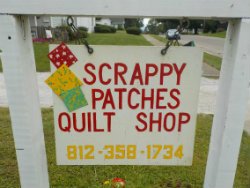 408 West Spring St
Brownstown, IN 47274

812-358-1734
---
Click to visit Scrappy Patches Quilt Shop!





Let's Chat!

Happy Fall! The cooler weather is headed our way and time to start those many, warm, soft, cuddly quilts. In the shop come see the many fall & holiday fabrics: Halloween, Thanksgiving and the big one - Christmas! As we all know, sewing takes time, lots of your valuable time. Some people sew for fun, some to actually get a project completed (don't they just bug ya!) Anyway, whatever your reason to sew, we are here to help you. We have free patterns, if you buy the fabric that goes with the pattern. Want to try an easy pillowcase, we have the pattern for you. Come see our Halloween fabric that "GLOWS" in the dark, lots of ways to have fun with that! Fall and Thanksgiving is a time for table runners & placemats, we have some new coasters too! Christmas panels, fabric, with many, many patterns. If we don't have what you want, we are more than willing to track it down for you. Our notion wall is full helpful items for your sewing room. Do you have something you started and just not getting anywhere with it. Barb is here to walk you thru it, she may not have all the answers but two brains are always better than one.
What Would You Do With A Panel?

Would you make a placemat?
Would you make a table runner?
Would you make a throw for the Holidays?



What's In The Store

Fall fabrics - 25% off in September!

Show n Tell


NEW Block of the Month


Pinwheel Roundabout, using fabric from Roses on the Vine by Marti Michell
This BOM starts in September and only 10 will be available. The blocks will be $6.00 a month for 12 months. The first down payment is $63.00 which is 1/2 price of the finishing kit, + $6.00 for first block (pattern included). Pick up any time during a month. You can order templates: sets B & D or paper templates are provided with pattern. May sign up at anytime!

Patchwork Club
Patchwork Club will be Sept. 23 at 9:00 a.m.

Scrap Happy Sampler
Mischell Ferguson is the instructor for this project. Sept. 9th is the next class. Cost of all classes - $25.00.
Long Arm Quilters
Robin Bense, 12010 E State Rd 7, Elizabethtown IN, 812-344-3163, rbense@gmail.com
Julie Bradley, 975 E. Base Rd, Brownstown, IN 812-216-0114, julie_bradley_73@comcast.net
Deborah Coultas, 8135 Mayden Trail Rd NE, New Salisbury, IN, 502-439-5152, Sewbeadit@hotmail.com