| | |
| --- | --- |
| | |
| | |
| | Scrap News |

Volume 2
Issue

1




DECEMBER

2018
408 West Spring Street


Brownstown, IN 4727


812-358-1734


scrappypatches@hotmail.com












It's been a great year at Scrappy Patches. Hope we have all accomplished new and fun projects.
I wish for you all a wonderful Christmas Season and completely happy 2019!

Bright colors to start off a New Year!


CLASS POLICIES
Classes will consist of three or more persons or the class will be rescheduled to have
the three or more. No cancellations are allowed and we appreciate you not asking
for exceptions. Call or stop in to sign up and pay for the class of your choice. Class
sign up can be over the phone with your credit card, 812-358-1734.
The class supply list will be available when you register and pay for the class. Supplies
are not included in the class fee unless other wise stated. Supplies for the class and
purchases during the class will be given a 15% discount. Patterns must be purchase
and no photocopies will be allowed.
Please plan to bring your sewing machine, sewing supplies (rulers, cutters, threads,
etc.) to complete your project.

Precuts

Looking forward to Spring Projects, think pinks!

Little One's A, B, C's



SHOW n TELL


Sit n Sew
Join us on Mondays, Wed. & Thur. for sit n sew from 9 am - 5pm. Bring your sewing machine, projects, and sewing needs to sew and chat the day away! Do you have a project you are stuck on, bring it in, let us help you - first time to visit
is free. Other days available, just make arrangements with store owner, Barb.

Fabric's and more in shop!

Patchwork Club
Next club meeting will be Dec 15. Let's have a Party! Bring your shown n Tell!

Memories of 2018!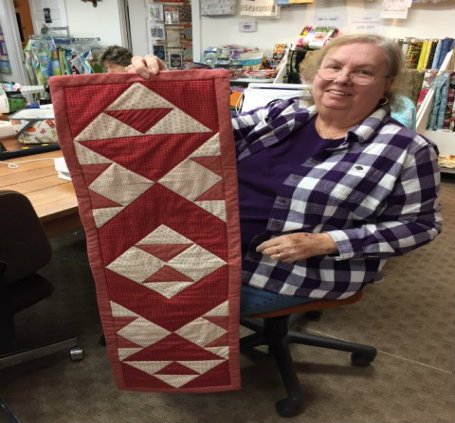 The shop will be close Dec. 24 & 25th. Enjoy the Holidays!