| | |
| --- | --- |
| | |
| | |
| | Scrap News |

Volume 2
Issue

11




NOVEMBER

2018
408 West Spring Street


Brownstown, IN 4727


812-358-1734


scrappypatches@hotmail.com














ClicktovisitScrappyPatchesQuiltShop!

Breaking News: Online store is up and running, place your ORDERS!
May call 812-358-1734 or scrappypatches@hotmail.com

Lovely "Special Celebration"

Thank you to all who came in for the Special Celebration. I am so grateful for all your
support and fellowship. Six years has been a wonderful, challenging experience. I have
learned so much from my kind customers and I hope I have been helpful to you too! Thank you,
thank you, for all that your support to Scrappy Patches! Barb

The following are winners from the drawings:
1st prize, hydraulic sewing chair: Susan Davis, Ga.
2nd prize, 24 x 36 cutting mat: Alice Taylor, Anderson, In
3rd prize, rotary cutter: Kim Wetzel, Seymour, In

NEW FABRICS!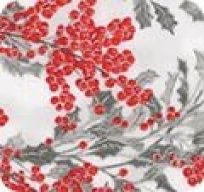 CLASS POLICIES
Call or stop in to sign up and pay for the class of your choice. Class
sign up can be over the phone with your credit card, 812-358-1734. Classes will
consist of three or more persons or the class will be rescheduled to have three or
more. If you cancel, no refund and we appreciate you not asking for exceptions.
The class supply list will be available when you register and pay for the class. Supplies
are not included in the class fee unless other wise stated. A 15% discount will be given
during the class and for class supplies. Patterns must be purchased and no photocopies
or sharing. Please plan to bring your sewing machine, sewing supplies (rulers, cutters,
threads, etc.) to complete your project. We encourage you to bring any show n tell
during classes.


Tall Trim the Tree Class


Nov. 13 - 10 am - 3 pm. Still in time for Christmas! Pattern $8.00.
Great time to learn paper piecing. $10.00 for the class, and receive
15% off class supplies. Pattern requires: dark green 1 1/4, line green 1/2 yd, light green 3/4
medium green 1/2 yd, white print 1 yd, white 5/8 yd, cream 5/8 yd, red 1/4 yd, brown scrap
for tree trunk, binding 1/2 yd, buttons, Christmas buttons may be added.
Example hanging in shop to see! Must have 3 or more or class will be rescheduled.

Tie Class

Nov. 20 - 10am - 3pm. Fun project to use those old ties. Items needed:
20 ties (can use less, but will have more variety with more ties). 2 yds
stabilizer (ek130), 1/2 yd background fabric, 1/2 yd fabric for shelf and binding, backing material
and batting. (all available here in the shop!) Prep work before class: using small end of tie
(leave ties sewn together) cut off point (will not use this) cut off a 9 inch piece. Take the 9 inch piece
apart and press. Fuse stabilizer to wrong side of 9 inch piece. Suggestions will be given during class
for ways to use the rest of the ties. May receive a 15% discount on
purchases during class time (does not include sale or discounted items). Must have 3 or more or
class will be rescheduled.

Sit n Sew
Join us on Mondays, Wed. & Thur. for sit n sew from 9 am - 5 pm. Bring your sewing machine, projects, and sewing needs to sew and chat the day away! Do you have a project you are stuck on, bring it in, let us help you - first time to visit
is free. Other days available, just make arrangements with store owner, Barb.

New fabric and patterns and more in shop!

Patchwork Club
Next club meeting will be Nov. 17. Please bring a show n tell to share!
One more club meeting left in 2018 - Dec. 15.


Kit: Winter White




Snowfall, Winter White kit available. Makes 60 x 80 quilt. $65.00, several kits
available.

Mark Your Calendars:
Nov. 1 Winners announced for Special Celebration. Mon, Nov 4 - 2pm - Sun, Nov. 10 - 2 pm.
Nov. 5 - 11 Lakeview Retreat, contact Stacy Robbins, 812-525-9632
Nov. 9 & 10 Christian Church, 703 W. Spring St, Brownstown, IN,
Nov. 13 - Tree Class
Nov. 17 Patchwork Club
Nov. 20 - Tie Class
Nov. 21 & 22 CLOSED for Thanksgiving, enjoy your holiday!
Dec. 8th - 14th Annual Snowflake Christmas Bazaar, 9 - 3, Brownstown United Methodist Church,
110 N. Poplar St, Brownstown.

NOVEMBER SPECIALS: All Christmas 50% off (does not include Roly Poly).
Select Fall fabrics 35% off.
Large selection of $4.00 fabric available, 1 yd minimum purchase.
Please think of Scrappy Patches for your Christmas sewing friends gifts or a gift certificate makes a wonderful gift!
* * *