| | |
| --- | --- |
| | |
| | |
| | Scrappy News |

Volume 2
Issue 5



MAY

2018
408 West Spring Street


Brownstown, IN 4727


812-358-1734


scrappypatches@hotmail.com









Click to visit Scrappy Patches Quilt Shop!
Two Strip Mix-up $2 Buck a Block Painter's Garden Block Of Month, $19.45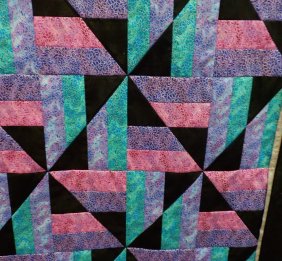 The quilts above are Buck A Block and Block of the month. You may
still sign up for both. Give us a call for complete information, we would love
for you to join us! 812-358-1734
* * * * * *
Do you label your quilts? I overheard a discussion to do labels or not do labels?
A quilt is not really finished without a label. It's like a signature of your
creativity. Yes, it takes more time but everyone has found that "quilt" without a label and wonder, who made it, what year, was it a gift??? Quilt labels can be easy to make and there are many ways to do them.
Basically, a quilt label is a piece of fabric with information about the quilt and the
maker sews it on the back or sometimes on the front! There are not rules to follow and you may be as creative as you want or as simple as you would like. Some labels
are very simple with name and date, others go on, and on and on. Want to try a
label, let us help with your next quilt.




Class: May 1 & 5, 9 am. Tall Trim the Tree. Still have openings for the 5th! Call now, 3812-358-1734.
Cost for class is $10.00,
pattern is $8.00. Pattern makes a 26 3/4 x 76 3/4 wall hanging. Pattern includes tissue paper foundations to make two tree quilts. May receive a %15 discount on purchases during class time (does not include sale or discounted items). Pattern requires: Dk green 1 1/4 yd, Lime green 1/2 yard, Light green 3/4 yd, Medium green 1/2 yd
white print 1 yd, white 5/8 yd, cream 5/8 yd, red 1/4 yd, brown - scrap for tree trunk, binding 1/2 yd, buttons, Christmas buttons may be added
3/4 buttons - 25. Come in and see this Tall Trim tree made up.
New items to see when you come visit!


Southern Indiana Shop Hop
Pick a date to start your Shop Hop - May 23 - 26, 9 shops participating. The books are now available for $5.00. Blocks cut and ready to sell on May 23 for $5.00. The Village Mercantile, Boonville; Scrappy Patches, Brownstown (that's us!); Quilters Corner Cottage, Charlestown; The Quilting Bee, Edwardsville; Let's Sew, Evansville (different time zone); L & L Yard Goods & Margie's Country Store,both Madison;Sharynn's Quilt Box, N. Vernon; The Stitching Post, Washington.

Sit n Sew
Join us on Mondays, Wed. & Thur. for sit n sew from 9 am - 5pm. Bring your sewing machine, projects, and sewing needs to sew and chat the day away! Other days available, just make arrangements with store owner, Barb.

BLOCK OF MONTH
Painter's Garden gives you the choice of making pieced or applique squares or half and half.
I have some blocks made up in the store if you would like to see the squares made up.
First month is $50.00 and $19.45. The next 8 months will will $19.45. Each month
will have two blocks of the same pattern to make. May sign up now! If you would like extra help,
NEXT sit n sew - May 15. This sit-n-sew is for Painter's Garden only..

Patchwork Club
Next club meeting will be July 28th. No meeting in May & June
Following dates, please note some dates have changed from previous newsletter info:
Apr. 28, May (no club), June (no club), July 28, Aug. 25, Sept. 22, Oct. 20, Nov. 17, Dec. 15.

Scrap Happy:
Will meet May 12 , at 10 a.m.


JUST IN: More Quilted Cottage

Mark Your Calendars;
May 18 -19, Franklin Co. Quilt Show, Brookville, In Governent Center, quiltbatts.org (866-644-6555).
June 8 & 9, Washington Quilt Show, at Southern Hills Church, 1645 S St Rd 135, Salem In, 47167. More info, call Patsy Rageant, 502-592-4513. Come see Scrappy Patches booth at this show!
Southern Indiana Shop Hop, June 20 - 23.
Quilt Expo, Sept. 6 - 8, 2018, Madison, Wis., More info: quiltexpo.com
* * *
Common Quilting Abbreviations:
BOM: Block of the Month BSK: Basic Sewing Kit
DSM: Domestic Sewing Machine FMQ: Free Motion Quilting
FQ: Fat Quarter FW: Feather Weight
HST: Half-Square Triangle LAG: Long Arm Quilting
LQS: Local Quilt Shop PhD: Projects Half Done
PP: Paper Piecing AQYG: Quilt As You Go
RST: Right Sides Together SA: Seam Allowance
SID: Stitch in the Ditch SOG: Straight of Grain
TBQ: To Be Quilted UFO: Unfinished Object
WIP: Work in Progress WOF: Width of Fabric
WST: Wrong Sides Together