| | |
| --- | --- |
| | |
| | |
| | Scrappy News |




Volume 2 Issue 4





April

2018
408 West Spring Street


Brownstown, IN 4727


812-358-1734


scrappypatches@hotmail.com









Click to visit Scrappy Patches Quilt Shop!

Picking the Perfect Fabric: One pattern with many different fabric combinations can develop into a fantastic study in color and fabric placement. The thrill of variety, the fascination of one small or large color change and the pattern play makes designs captivating and exciting to design. Fabric choices can be the most challenging part of deciding a quilt project. We keep wondering what if, or where do I put a certain piece or color? You may visit Scrappy Patches and enjoy the excitement of playing with different colors and fabric combination to create the quilt that perfectly expresses YOU! Would you like it already picked out and just want to follow a pattern and complete a project? We have options for you too! March we offered the $2.00 Buck A Block using Two Strip Mix up pattern. April 16, we are offering the "Painter's Garden" BOM, $19.45 a month. Again, this can be pieced for two different designs, you can choose!


Two Strip Mix-up $2 Buck a Block Painter's Garden Block Of Month, $19.45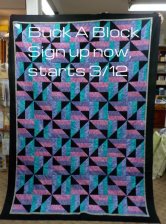 HAPPY EASTER!

Class: APRIL 14, 10 AM, $10.00 for this wall hanging with ties, call if interested 812-358-1734. Find those ties!
Items needed: 20 ties (can use less, but will have more variety with more ties). 2 yd stabilizer (ek130), 1/2 yd background fabric, 1/2 yard fabric for shelf and binding, backing material and batting. (All is available here in the shop!) Prep work before class: using small end of tie (leave ties sewn together) cut off point (will not use this) cut off a 9 inch piece. Take the 9 inch piece apart and press. Fuse stabilizer to wrong side of 9 in. piece. Suggestions will be
given in class for ways to use the rest of the ties. May receive a %15 discount on purchases during class time ( does
not include sale or discount items.)

Class:

May 5th, 9 am. Tall Trim the Tree. Cost for class is $10.00,
pattern is $8.00. Pattern makes a 26 3/4 x 76 3/4 wall hanging. Pattern includes tissue paper foundations to make two tree quilts. May receive a %15 discount on purchases during class time (does not include sale or discounted items). Pattern requires: Dk green 1 1/4 yd, Lime green 1/2 yard, Light green 3/4 yd, Medium green 1/2 yd
white print 1 yd, white 5/8 yd, cream 5/8 yd, red 1/4 yd, brown - scrap for tree trunk, binding 1/2 yd, buttons, Christmas buttons may be added
3/4 buttons - 25.
New items to see when you come visit!


Sit n Sew
Join us on Mondays, Wed. & Thur. for sit n sew from 9 am - 5pm. Bring your sewing machine, projects, and sewing needs to sew and chat the day away! Other days available, just make arrangements with store owner, Barb. *Special sit and sewing days to help you get started on BOM & Buck a Block. April 10 (Buck a Block) and April 17(BOM), 9am - 3 pm. This is to work only on BOM & Buck a Block, thanks for your cooperation!

Buck A Block
Painter's Garden gives you the choice of making pieced or applique squares or half and half.
I have some blocks made up in the store if you would like to see the squares made up.
First month is $50.00 and $19.45. The next 8 months will will $19.45. Each month
will have two blocks of the same pattern to make. May sign up now! If you would like extra help,
come to sit n sew April 13, 9 - 3 and May 15. This sit-n-sew is for Buck A Block only.

Patchwork Club
Next club meeting will be April 28th, 9 -noon and you may sew that day for free till 3:00. Bring three (3) 2.5" strips to exchange. No meeting in May.
Following dates, please note some dates have changed from previous newsletter info:
Apr. 28, May (no club), June (no club), July 28, Aug. 25, Sept. 22, Oct. 20, Nov. 17, Dec. 15.

Scrap Happy:
Will meet April 21, not the second Sat. at 10 a.m. May class will be on the 12th, yes, the second Sat.!


MARCH'S Patchwork Club Show N Tell:

Mark Your Calendars;
Quiltfest, April 6 - 8 2018, 10 - 5, Rising Sun History Museum. More info:
risingsunquiltfest.com
May 18 -19, Franklin Co. Quilt Show, Brookville, In Governent Center, quiltbatts.org (866-644-6555).
Southern Indiana Shop Hop, June 20 - 23.
QuiltExpo, Sept. 6 - 8, 2018, Madison, Wis., More info: quiltexpo.com